Hi Everyone

By mid-April it is safe to plant warm season annuals. Here are a few suggestions for annual color in your garden or in containers. Any suggestions where the name is in quotes (i.e. 'Profusion'), that is the specific cultivar that you need to look for for best results. For even more suggestions, go to dallasplanttrials.org click on "Talks," then choose from the list of presentations by Jimmy Turner with the Dallas Arboretum.
As mentioned in my Container Crazy! post, when planting containers, remember you want...
a "thriller" (tall plants),
a "filler" (plants to fill in the middle),
and a "spiller" (plants that trail over the edge).

By far the best container book I've ever had is called Easy Container Gardensby Pamela Crawford. She gives great plant combination ideas, and they all work for our Zone 7/8 climate!

A suggestion from the April 2011 Southern Living magazine is to first find a foliage plant that you love. Then choose a second foliage plant with complementary hues and contrasting textures. And finally, add a bloom that pulls it all together.
Some great annuals for summer SUN:
Thrillers: Purple Fountaingrass
Ti Plant or Cordyline
Esperanza (Tecoma Stans)
Variegated Tapioca (Manihot esculenta)
Copperplant
Perilla Magilla and Perilla Vanilla
Canna
Fillers: 'Profusion' zinnia or zinnia linearis(Star zinnia)
Periwinkles/Vinca 'Cora' (plant periwinkles late May, early June)
Pentas – 'Graffiti' or 'Kaleidoscope' or 'Butterfly' varieties
Angelonia 'Serena' series
'Stara' or 'Sun Devil' Begonia
Melampodium
Cosmos
'Intensia' Phlox
'Dakota Gold' Helenium
Euphorbia 'Diamond Frost' (looks great paired with pentas or impatiens)
Ornamental peppers
Coleus (sun varieties)
Croton
Spillers: Lantana
Moss Rose (portulaca) or Spanish Moss Ross or 'Samba' Portulaca
Purselane
Sweet Potato Vine (Margarita, Blackie, Ace of Spades, Bewitched,
NEW: Emerald Lace & Midnight Lace)
Blue Daze
Verbena tapien or Homestead Verbena
Creeping Jenny
Sedum 'Angelina'

Annuals for SHADE:

Thrillers: Iresine
Persian Shield
Lemon Lollipop or Golden Shrimp Plant (Pachystachys lutea)
Spike or Cordyline
Caladiums (do not plant until soil temps are about 70 degrees)
Fillers: Impatiens (not New Guinea impatiens)
Begonias ('Stara' green leaf)
Alternanthera (sun or shade)
Dragonwing Begonias
Coleus (shade varieties)
Oxalis
Spider Plant (filler/spiller)
Spillers: Summer Wave Torenia
Sweet Potato Vine (see above for varieties)
Creeping Jenny
Wandering Jew
Hemigraphis
Asparagus Fern (filler/spiller)
Swedish Ivy
Note: Avoid getting petunias, geraniums, marigolds, and New Guinea impatiens, no matter how great they look in the nursery. They just can't take the summer heat! Don't be wooed by flowering snapdragons and alyssum. They are on their way out; they are cool season annuals that should be planted in the fall. Petunias and marigolds perform much better if planted in the fall.
Scroll down to see pictures and suggestions for container combination plantings. I hope you give them a try!

Don't forget...the Grapevine Garden Club AnnualPLANT SALE is Saturday April 30 from 8 a.m. to 1 p.m. at the Gazebo on Main Street in Grapevine! Come for a great selection of heirloom and nursery plants. Tell all your friends and neighbors! Arrive early for the best selection. All profits for our plant sale go to GGC scholarships, as well as many civic activities. I hope to see you there!
Enjoy your gardens.
If I can answer any questions, just call or e-mail signaturegardens@verizon.net
Toni's Container Combos:
For SUN: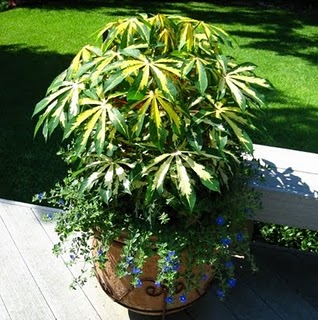 Variegated Tapioca
Blue Daze (below)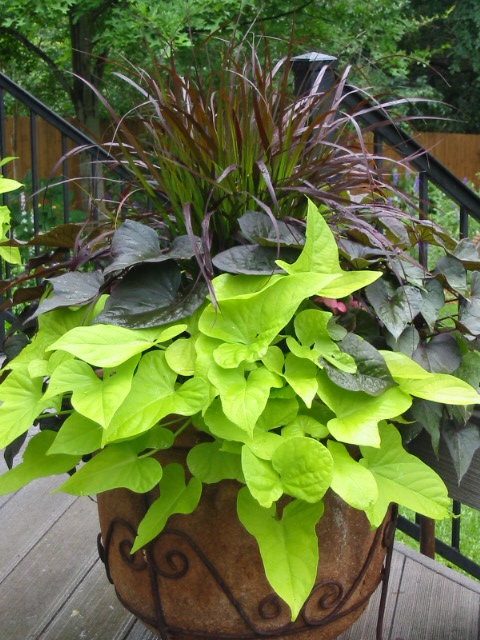 Purple Fountain Grass

Blackie Sweet Potato Vine

Margarita Sweet Potato Vine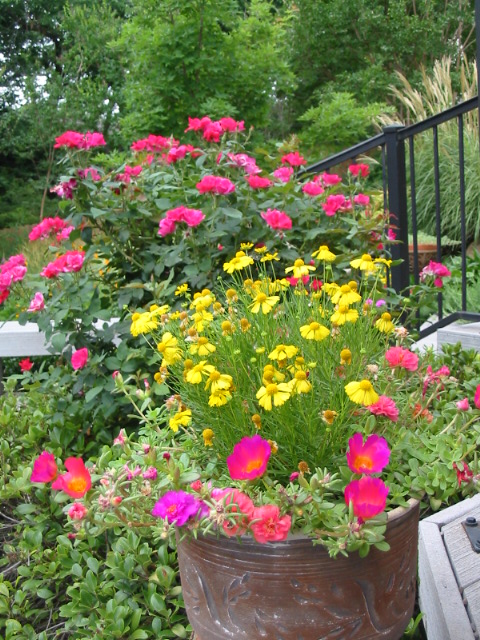 (foreground)

'Dakota Gold' Helenium

Moss Rose

(background)

Knock-Out Rose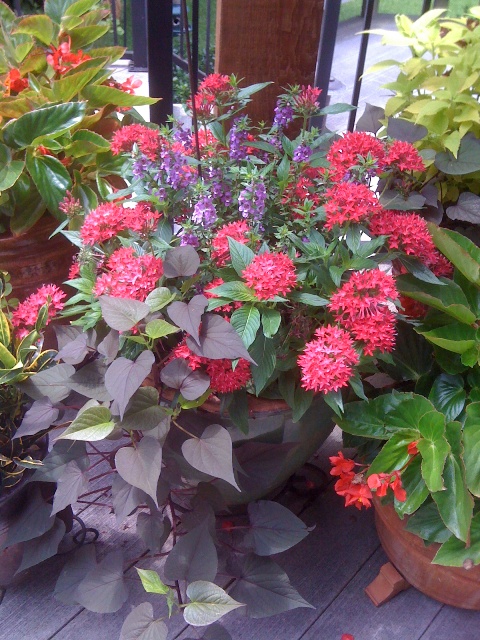 Angelonia 'Serena' Series - purple
Red or Pink Pentas
'Ace of Spaces' Sweet Potato Vine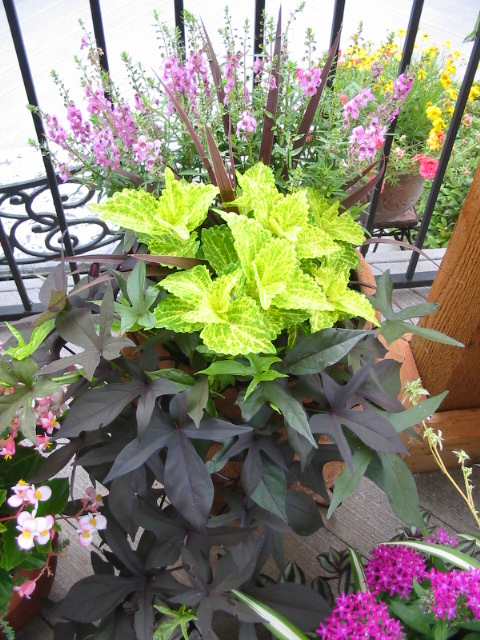 Angelonia 'Serena' Series - lavender
Cordyline (red)
Sun Coleus (lime green)
'Blackie' Sweet Potato Vine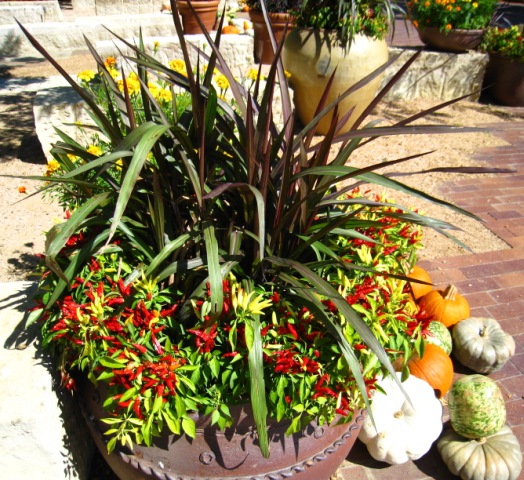 Purple Fountain Grass
'Chilly Chili' Ornamental Peppers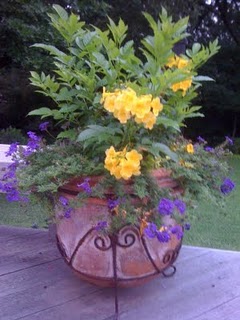 Esperanza
Verbena tapien (purple)
Creeping Jenny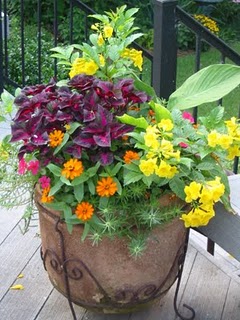 Esperanza (Tecoma stans)
Perilla Magilla
'Profusion' Zinnias
Spanish Moss Rose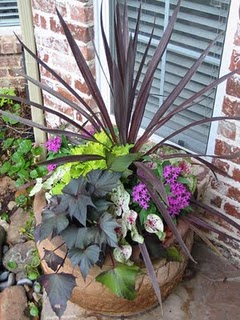 (part sun)
Cordyline (red)
Pentas (violet 'Graffiti')
Sun Coleus (lime green)
Caladium 'Miss Muffet'
'Bewitched' Sweet Potato Vine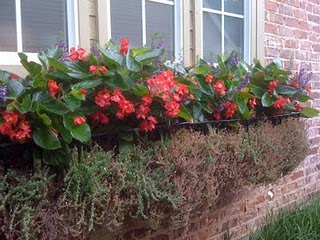 (part sun)
Angelonia (purple)
Dragonwing Begonias
Croton
Creeping Jenny or Sedum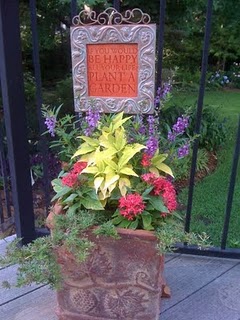 Angelonia 'Serena' Series (purple)
Penta (red)
Sun Coleus (lime green)
Verbena tapien (purple)
Creeping Jenny
More SUN Combos:
Variegated Tapioca
'Cora' periwinkles - deep lavender or punch
Moss Rose - portulaca or Purple Heart
***
Angelonia (purple)
Profusion Zinnia (orange or fire)
Margarita Sweet Potato Vine
***
Angelonia 'Serena' Series
Penta – Pink 'Graffiti'
Summer Wave Torenia – Pink
Purple Heart or Wandering Jew or Hemigraphis
***
'Bengal Tiger' or 'Pretoria' Canna
Red Dragonwing Begonias
or
'Tropicana' Canna
Margarita Sweet Potato Vine
***
(part sun)
Spike (dracaena)
Perilla Magilla
Summer Wave Torenia – blue
'Margarita' Sweet Potato Vine
***
'Dakota Gold' Helenium
Angelonia 'Serena' Series - purple
Punch 'Cora' vinca - (periwinkles) or
Red Penta 'Grafitti' 'Kalaidescope' or 'Butterfly'
Moss Rose
***
(part sun)
Red Dragonwing Begonia
Coleus 'Lemon Sunsation'
'Bewitched' Sweet Potato Vine
***
Pentas 'Graffiti' - red or dark pink
Dakota Gold Helenium or Dahlberg Daisy or Melampodium
Purple Heart
***
Cordyline or Ti Plant
Dragonwing Begonia - Pink or Red
Blackie or Bewitched Sweet Potato vine
Silver Licorice plant
***
Cordyline or Ti Plant or Canna
Croton
'Margarita' or 'Emerald Lace' Sweet Potato Vine OR Creeping Jenny
For SHADE: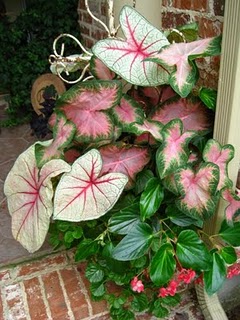 Assorted Caladiums
Dragonwing Begonia (pink or red)
Creeping Jenny or Swedish Ivy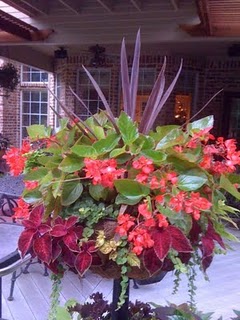 Cordyline (red)
Dragonwing Begonia (red)
Assorted Coleus
Creeping Jenny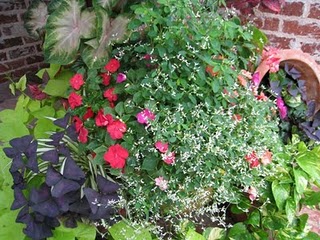 'Diamond Frost'
Euphorbia
Impatiens (or Pentas)
Oxalis (purple)
Impatiens
Caladiums 'White Queen'
Dragonwing Begonias (red)
Caladium (red strapleaf)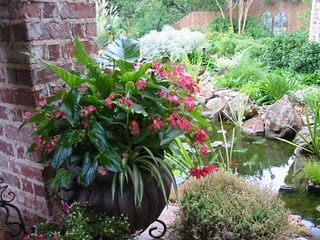 Elephant Ear or Caladiums
Dragonwing Begonias (pink or red)
Spider Plant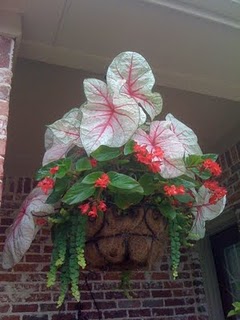 (hanging basket)
Caladium 'White Queen'
Dragonwing Begonia (red)
Creeping Jenny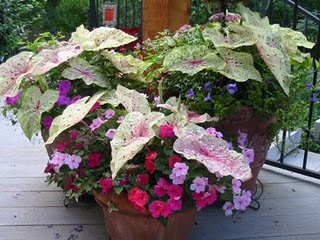 Caladium 'Miss Muffet'
'Diamond Frost' Euphorbia
Impatiens
Summer Wave Torenia (blue)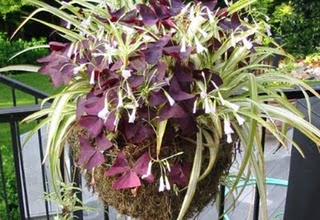 (great for hanging baskets)
Spider Plant
Purple Oxalis
More SHADE Combos
:
Iresine 'Blazin Rose'
Dragonwing Begonia – Pink
Penta – Pink 'Graffiti' or Pink/purple impatiens
Coleus
Rosebud Caladiums
'Margarita' Sweet Potato Vine or Creeping Jenny
***
Persian Shield
Coleus - lime green
Impatiens - pink
Creeping Jenny or Purple Heart or
Sweet Potato vine - 'Margarita,' 'Bewitched,' or 'Emerald Lace'
***
Golden Shrimp Plant -(Lemon Lollipop -pachystachys lutea)
Dragonwing Begonia
Coleus - pink or purple shades or Persian Shield
Summer Wave Torenia - blue
Sweet Potato vine - 'Margarita' or 'Emerald Lace'
***
Persian Shield
Caladium 'White Queen'
Begonias - pink
***
Golden Shrimp Plant - (Lemon Lollipop - pachystachys lutea)
Red Pentas
Lime green coleus
Blue Daze or Blue Torenia
Creeping Jenny
***
Caladiums 'Carolyn Whorton'
Coleus - lime green
Begonias - pink
Summer Wave Torenia - pink
***
Cordyline
Kong Coleus
Pink Begonias
Creeping Jenny
***
Spike (dracaena) or Cordyline
Caladiums (strapleaf)
Dragonwing Begonia
Creeping Jenny or 'Margarita' or 'Emerald Lace' Sweet Potato Vine
Remember...
A day without dirt under your nails is like a day without sunshine

Toni :-)